WHO IS MASTER CLASS "IDEAL EYE ARROW" FOR?
Many masters after Basic course of permanent make-up make eyebrows confidently, but can't cope with eyelid. Work jewelry, delicate skin and difficulties in making symmetry scare lots of masters, but eyelid permanent make-up is the second popular request among clients.
MASTER CLASS COST
ADVANTAGES OF TRAINING WITH US

Working out on alive model

Certificate about training

We taught more than 100 000 students including trainers and industry stars

20 years of practical experience

Возможность оплатить в кредит

ONLINE training for nonresidents with detailed videomaterial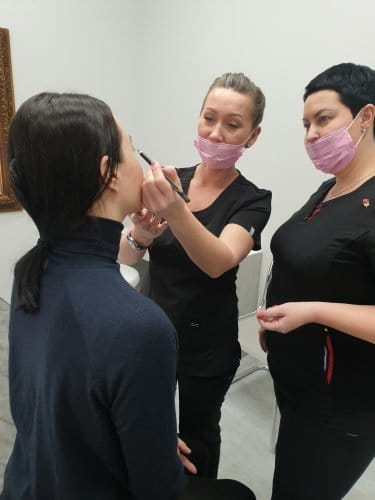 MASTER CLASS PROGRAMM
THEORY
• Eyes Clasification by shape, planing, distance and so on. Correction possibility to the ideal with the help of permanent make-up.
• Eyelid skin structure. Pecularities of work in this area.
• Natural pigmentation types in eyelid area. Defenirion of client colour type.
• Colouring. Principles of pigment matching for New works and overlapping of old ones.
• Algorythm of OLD WORK correction.
• Review and pecularities of all eyelid permanent make-up techniques.
• Arrow forms. Typical mistakes During the sketching.
PERMANENT MAKE-UP EYELID TECHNIQUES
• Interciliary conture
• Clearly delinated arrow
• Arrow with feathering
• Shadow feathering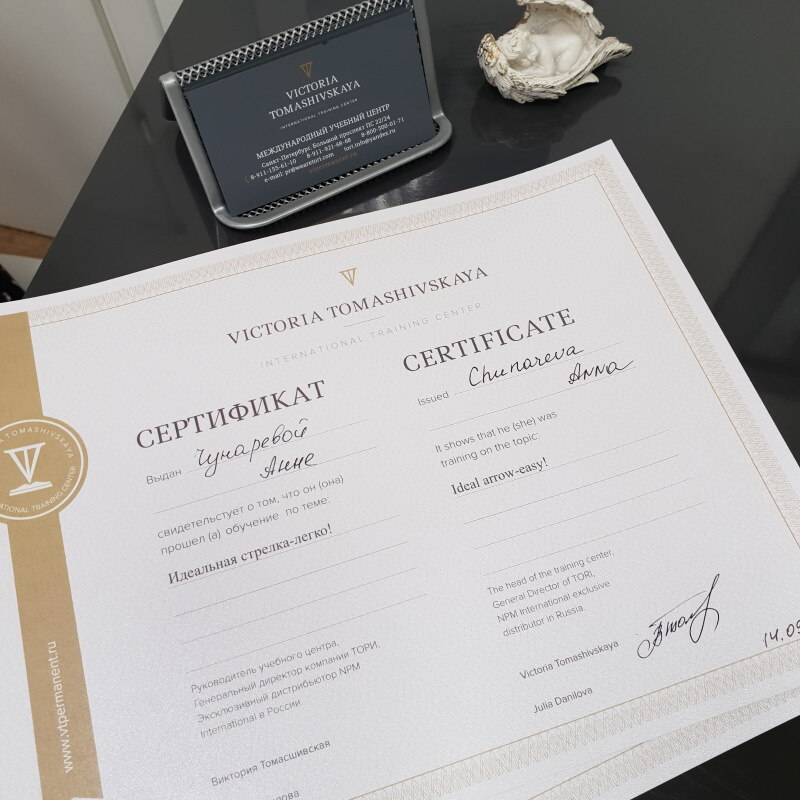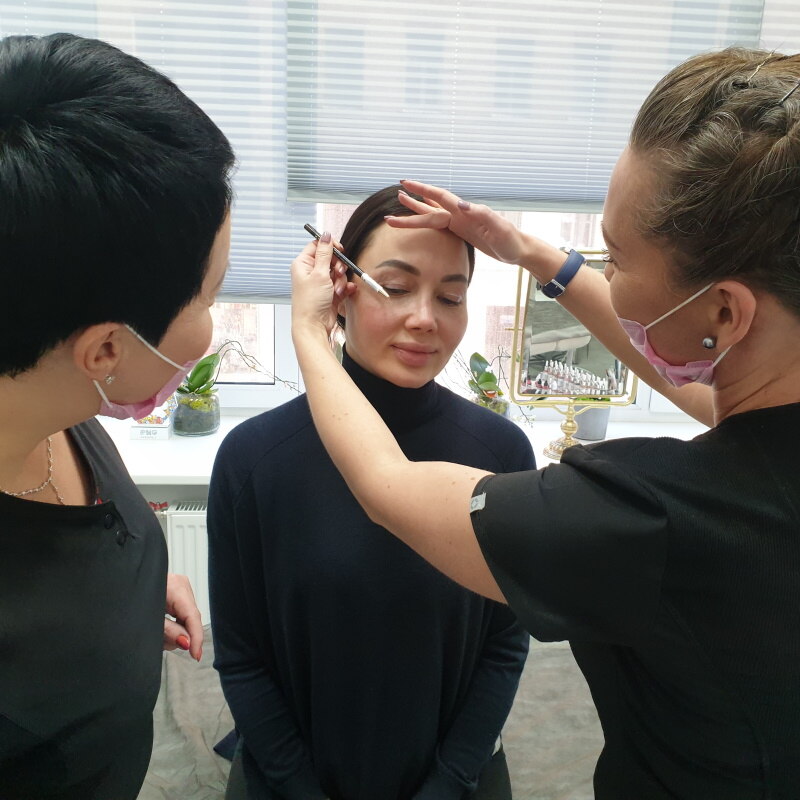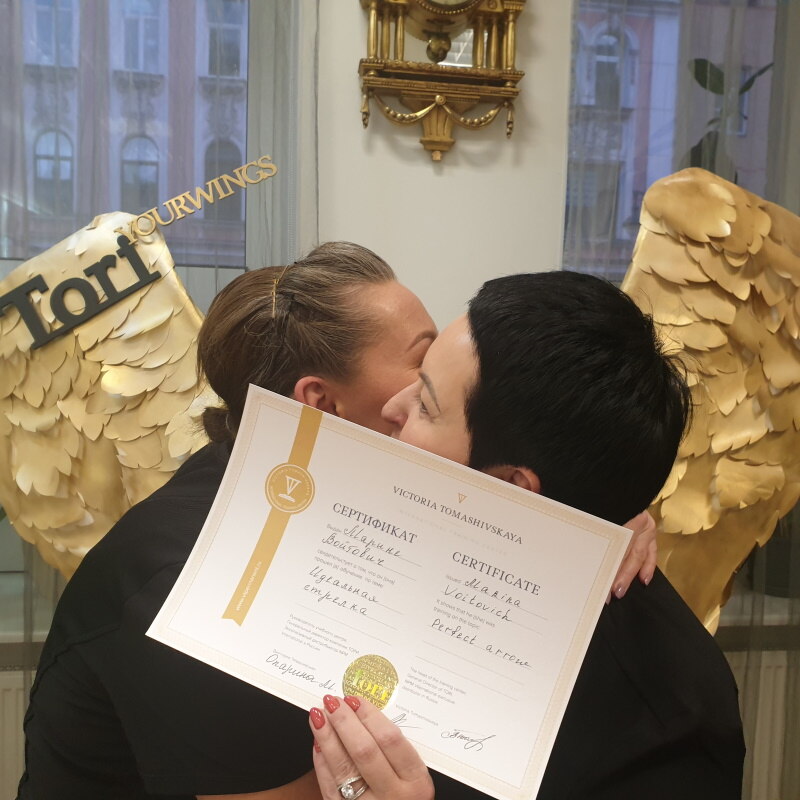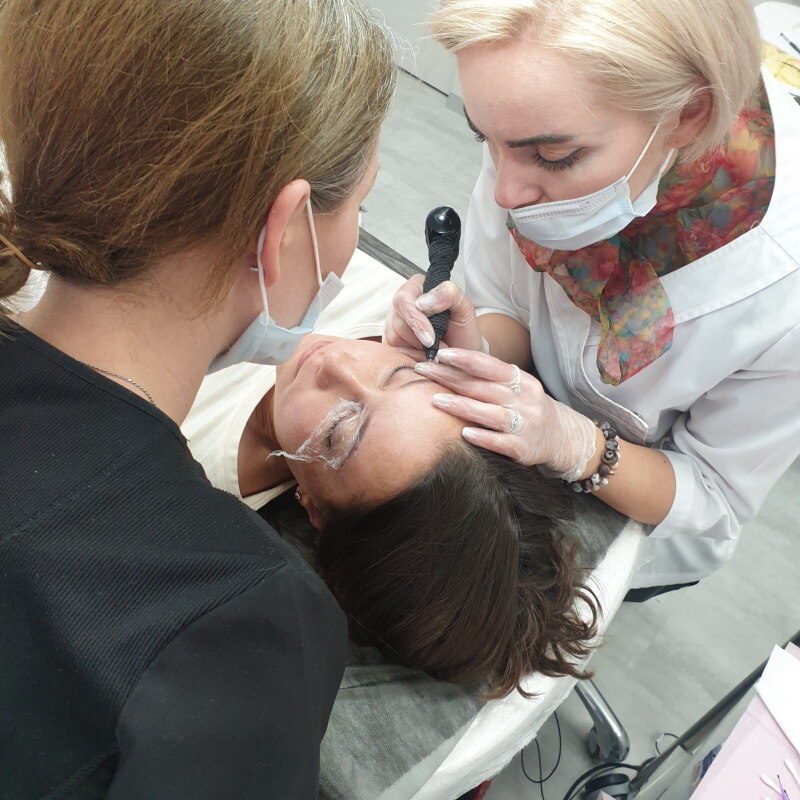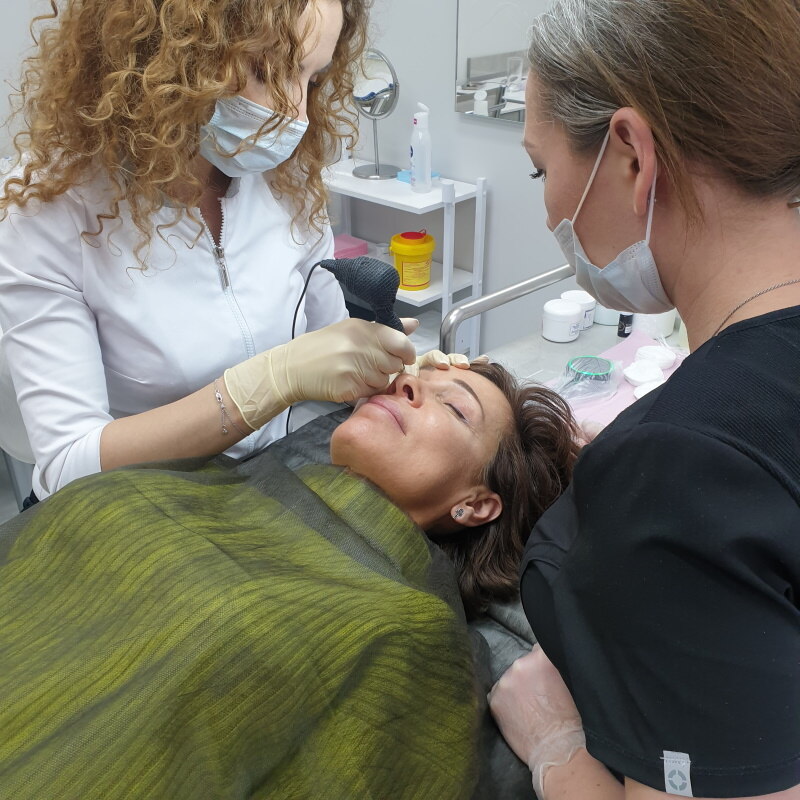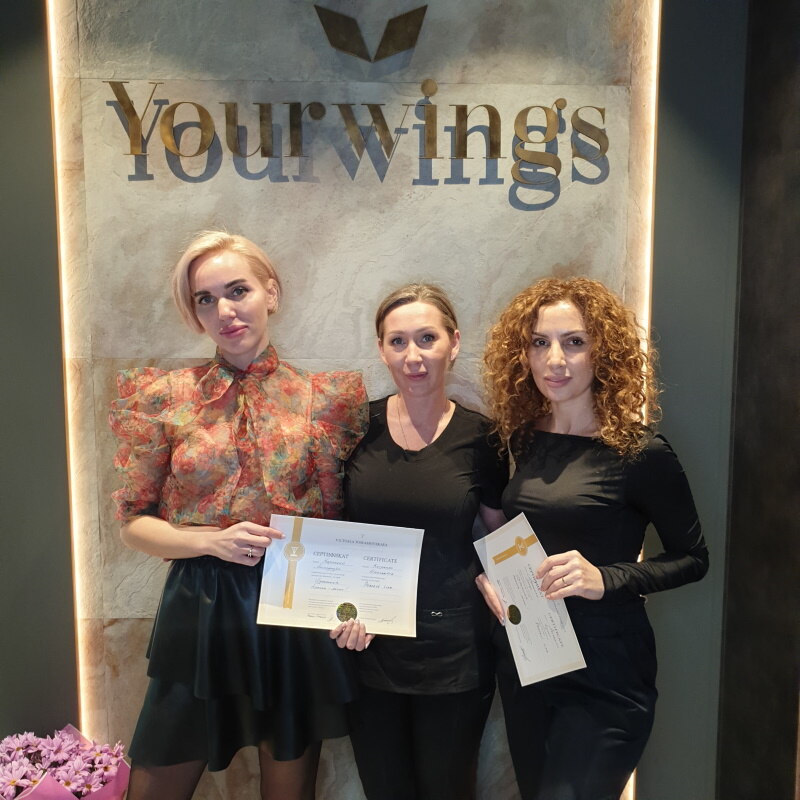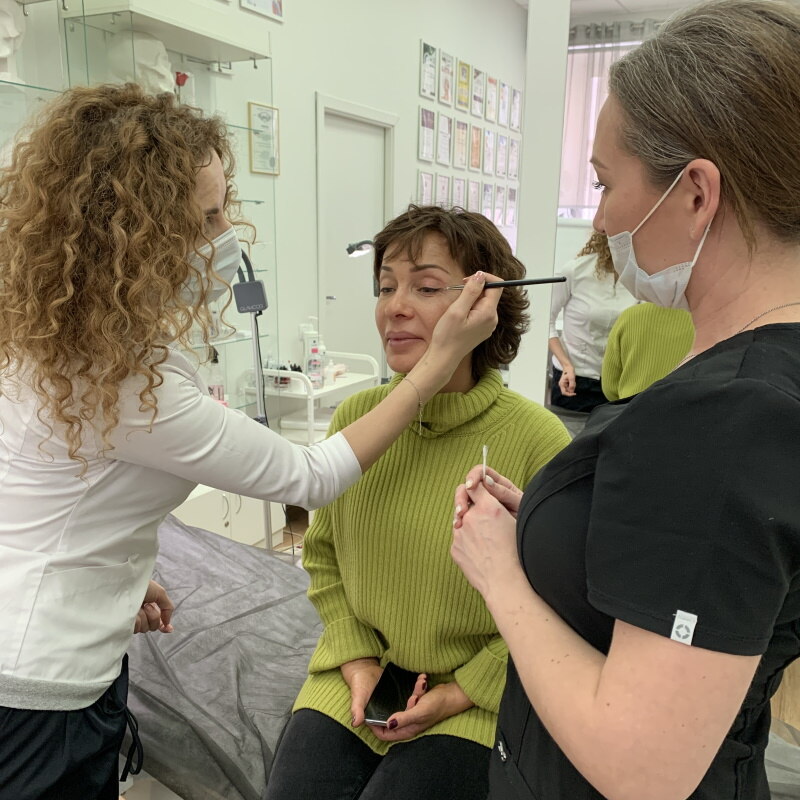 PRACTICE ON LATEX
• Hand standing for each technique.
• Detailed working out of all techniques on training Material.
• Colour combination. Creation of colour "transparent" effect.
PRACTICE ON MODEL
• Sketching. Colour combination. Technical laying.
• Working with the model in combined technique under the teacher direction
• Round table with mistakes discussing and answers all questions.
Practical skills are worked out on your apparatus so you to use gettin skills in your work.
MASTER CLASS COST
MASTER CLASS TEACHER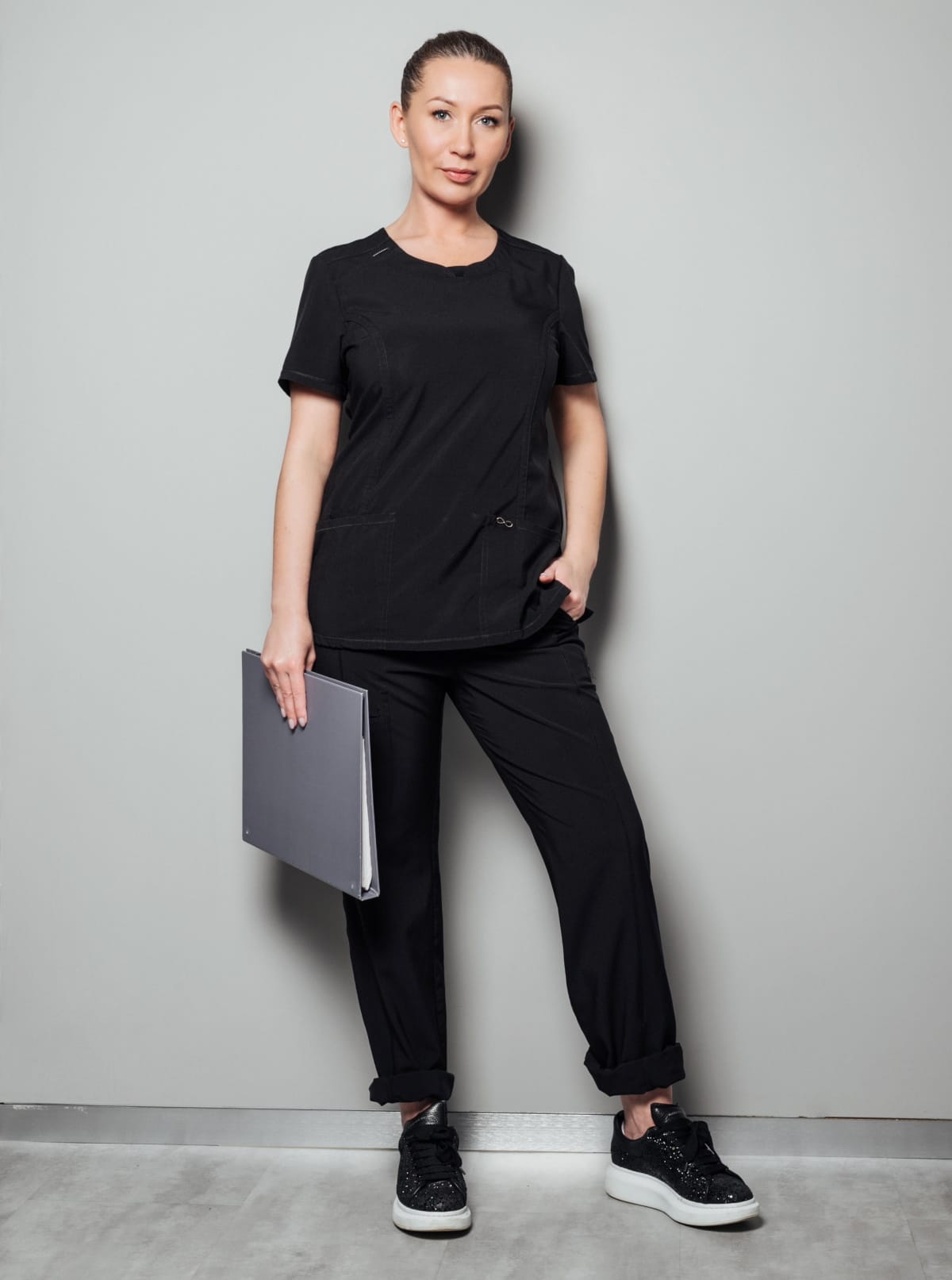 MARIA OPARINA
• Constant teacher of the training centre, teaching by Victoria Tomashivskaya author methods
• Permanent make-up and dermopigmentation specialist
• Specialist in lazer and chemical removal.
• Visagist.
• Multiple winner of International championships on permanent make-up.
• Award winner of VIVO BUSINESS AWARDS 2020, Moscow.
• Award winner in the sphere of PMU VIVO CHAMPIONSHIP 2020, expert judge, Moscow
• The owner of the award «For responsible and unique approach in PM training» from DORE BEAUTY AWARDS 2020, Moscow

@mariya_oparina_permanentspb
STUDENTS REVIEWS
WHY CHOOSE US
01

UNLIMITED STUDENT SUPPORT CHAT

After training you are the participant of unlimited closed students and teachers chat. In the chat you'll be able to get feedback by your works photos and the answers on any question in your work from experienced teachers and colleagues.

02

FULL PROVISION

On the Master class You must take only uniform, apparatus you used to work with and good mood! All printed, Basic consumables, and also models for practical working off are provided by Victoria Tomashivskaya Training centre.

03

CERTIFICATE

After training you'll get the certificate, that is valued all over the world. Victoria Tomashivskaya training centre has educational license.
04

ONLINE TRAINING

If you can't Come to our training center, we'll have online Master class on the Zoom platform. There is no practical part in the online programme. You 'll be able to work off your skills by yourself and send the photos of works for checking

05

AUTHOR METHOD

All courses are worked out by expert trainer of International level Victoria Tomashivskaya. The lessons are held by certified teachers of International level in mini groups (2-4 persons)

06

ACCOMMODATION OF STUDENTS – NONRESIDENTS

If you want to concentrate on the event, not distracting on everyday questions, we'll help with accommodation of students nonresidents in cosy apartments in the heart of Saint Petersburg!
MASTER CLASS COST
TO SIGH UP, FILL THE FORM IN
By clicking on the button you consent to the processing of your personal data and agree with
offer, rules and privacy policy.
You can get credit!
For getting Credit on the training log in your Email and phone number below. You'll get the decision by the SMS up to 2 minute. The contract can be sighned up with the SMS or on the meetings with the teacher.