INTERNATIONAL TRAINING CENTER
VIDEO COURSES
OF PERMANENT MAKE-UP
Victoria Tomashivskaya Training Centre's video courses are an amazing chance to learn about permanent make-up from the comfort of your own home! You can buy each lesson separately or buy the whole course at once!
RECORDED VIDEO COURSES
We know how difficult it can be to find the time and money for offline training. The new convenient format of recorded courses is a full-fledged professional development that doesn't disrupt your work schedule and is cheaper than offline courses.
A new level of comfortable learning at the Victoria Tomashivskaya Online Academy.
Learn when and where it's convenient. To view the courses you only need access to our website on your mobile device or computer
When you purchase access to a video course, please specify your email address, to which we will send a link. Access is for 1 week and you can view the course up to 10 times. After payment, you will receive an email with a link to the video course page.
Practice is included! All courses include a detailed, high quality video demonstration of the practical part on a model.
Get feedback and questions answered in the support chat. Every master gets unlimited access to a private training chat room where you can get help and questions answered by peers and teachers.
CHEMICAL REMOVAL YOURWINGS

theory 30 minutes, demonstration practice 40 minutes
CONTENT OF THE VIDEO COURSE
— Physical-chemical principles of pigment remover with YOURWINGS permanentmakeup&tattooremover.
– A concise presentation of information. Theoretical background in 30 minutes, detailed demonstration of the practical part in 40 minutes.
– High quality video, the practical part shows the work in great detail. You will see the process in detail.
– An electronic certificate of training is issued.
The cost of the course includes: theoretical and practical master class – 6000 rubles, starter kit (Yourwings Remover 10 ml and Repairing Cream 15 g) – 8000 rubles, delivery from St.Petersburg – 1000 rubles.
Delivery to remote areas is carried out by Russian Post. The manager of the Training Centre will contact you to confirm the address, method and other details of delivery.
AREOLA RECONSTRUCTION

60 minutes theory, 30 minutes practice – areola on flat skin flap without nipple / 20 minutes practice – areola with nipple / 30 minutes practice – scarring after mammoplasty
CONTENT OF THE VIDEO COURSE
— Practical lesson 1. The creation of areola on a flat skin flap (without nipple).
— Practical lesson 2. The reconstruction of areola with nipple.
— Practical lesson 3. The correction of scars after mammoplasty.
— Theoretical lesson 4. Specifics of work for different types of mammoplasty access. Contraindications. Classification of scars, peculiarities of scar tissue. Stages of skin healing after surgery.
SCARS CAMOUFLAGE

Theory 70 minutes, demonstration practice 15 minutes
CONTENT OF THE VIDEO COURSE
– The price includes a set of 6 mini-pigments for scar camouflage (4500 rubles) and delivery from St. Petersburg (1000 rubles)
– Classification of scars and particularities of working with each type.
– Stages of wound healing and scar formation.
– Opportunities and limitations of dermopigmentation in scar correction. Interaction with allied specialists (cosmetologists, surgeons).
– Contraindications for scar treatment.
– Main aspects affecting the selection of pigment colours.
– Complicated cases and peculiarities of work in different zones.
– Performing scar camouflage on a model.
– Сoloristics of YOURWINGS pigments for camouflage.
TRICHOPIGMENTATION. ALOPECIA CORRECTION.

45 minutes theory. 25 minutes demonstration practice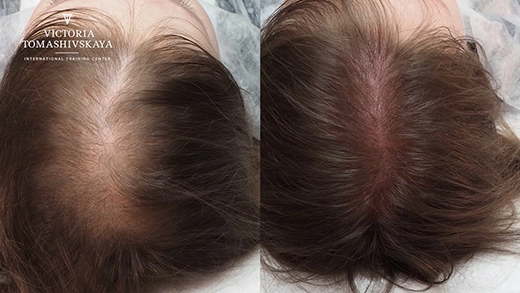 CONTENT OF THE VIDEO COURSE
– Classification of Alopecia. The causes.
– Peculiarities of the scalp.
– Contraindications for the procedure trichopigmentation.
– Selection of the color pigment. Specifics of the method.
– Methods of carrying out the procedure.